Christmas: Cute Kitten, Tiger Cub, Eagle
Cute Cats, Kittens, Dogs, Panda, Unicorn
Dragons
Owls, Penguins, Polar Bear, Ducks, Racoons
Tigers
Wolfs
---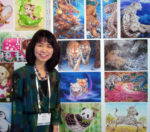 Kayomi Harai was born in Osaka, Japan, Kayomi is a self-taught artist with a unique vision. Her paintings are full of imagination and feature a wide range of animals, including cats, tigers, leopards, pandas, wolves, eagles, and dragons. She has developed her own detailed style of painting using watercolor over pastel and color pencils. She tries to depict the personalities of the animals and emphasizes their unspoken eloquence.
Her works have been exhibited and licensed around the world.
Currently, she lives in San Jose, California.
CLICK HERE to learn more about opportunities for licensing Kayomi Harai's artworks.
---
© 2022 Kayomi Harai/ Licensed by D. Parks and Associates LLC, ALL RIGHTS RESERVED.