---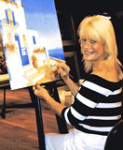 Sharie Hatchett Bohlmann, a 50+ year veteran of the collectible art world, recognized the desire that we share to enjoy soothing landscapes and magic memories by creating those legendary scenes reminiscent of her special world travels. "I rarely put people in my paintings, because I want the viewer to feel my rooms with views are their own personal special places, to sit down and relax with a friend and savor the forever views" added Sharie. Her signature use of plantation shutters or architectural columns, opens an entranceway and invites the viewer to step into the painting and enjoy the romantic scene as their own private window to the world.
Sharie's phenomenal rise to international artistic stardom was hard fought and her talent has earned her the respect of peers and collectors worldwide, establishing Sharie as the world's leading Romantic Impressionistic Realism Master Artist. Sharie Hatchett Bohlmann admirers include the Bob Hope and Frank Sinatra families, Diana Ross, Julio Iglesias, Donald Trump, Larry King, Arnold Schwarzeneggar, Quincy Jones and literally thousands of others. Many other celebrated collectors worldwide include former President and Mrs. Reagan, who commissioned Sharie to paint "Easter at the White House" for the permanent White House collection and President and Mrs. Bill Clinton who requested Sharie to paint "Holidays at the White House" for the Clinton's Christmas card with art renderings of both Presidential works donated to the Smithsonian Institute. Sharie's works have graced the walls of the White House, since President Lyndon and Ladybird Johnson's residency and she has been collected by every Presidential Family since that beginning honor.
Sharie Hatchett Bohlmann's artworks has been licensed for jigsaw puzzles, menu and book covers, calendars, wine labels, note cards, computer mouse pads, ceramic mugs, and tiles.
Sharie and her husband Dan are deeply involved with many charities, donating literally hundreds of thousands of dollars of art yearly for charitable fundraising programs. Charitable fundraising programs includes Adam Walsh Children's Foundation for which Sharie received the International Rainbow Award for her philanthropic endeavors in 1995. She also contributes on a yearly basis to many other charities such as American Cancer Society, American Heart Association, AIDS Research, Habitat for Humanity, Make a Wish Foundation plus hundreds of other local, national and international charitable foundations.
CLICK HERE to learn more about opportunities for licensing Shari Hatchett Bohlmann's artworks.
---
© 2022 Shari Hatchett Bohlmann / Licensed by D. Parks and Associates LLC, ALL RIGHTS RESERVED.