---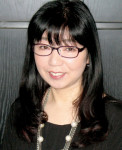 Miharu Yokota graduated from a Kyushu Industrial University art department in 1983. Miharu learned full-scale oil painting at the university and after graduation. She worked in the advertising agency and the print company. Now she is living in Tokyo. She became independent as a free-lance illustrator in 1992. Also, Miharu won the Grand Prix in LE NOUVEL ART. Miharu has and is exhibiting her artwork in Japan, Germany and Paris in France.
Miharu loves children's story such as Alice, Grimm and Andersen which she read when she was a child. Miharu Yokota has created many beautiful fairy and fantasy girl's artworks. Her elves, fairies and magical creatures are amazing too. They are all just absolutely beautiful.
CLICK HERE to learn more about opportunities for licensing Miharu Yokota's artworks.
---
© 2023 Miharu Yokota/ Licensed by D. Parks and Associates LLC, ALL RIGHTS RESERVED.