---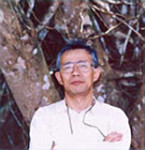 Hiroo Isono was born in 1945 in Aichi Prefecture, Japan and passed away in June 2013. He graduated from Aichi University of Education 1968. From 1970 on, he worked for a corporate design studio, having started his career as a free-lance illustrator.
The main theme in Isono's work is the natural world, and whether the subject is jungle, forest, or tropical climes, his art conveys a serene atmosphere, coupled with the strength and appeal of Nature's wonder.
He has extensively traveled to varied forests and jungles in Japan such as the Yaeyama Islands, the Aokigahara ("Sea of Trees") Forest near Mt. Fuji, and Yakushima Island. A list of his travels also includes a long awaited journey to the Archipelago, the Solomon Islands, the Amazon, places in North America, Kenya, Tanzania, Papua New Guinea, New Zealand, Australia, Canada, Maraicia, and many other forested regions.
A corporate calendar using his nature-themed artwork received an award at the Japan National Calendar Exhibit. Isono's artwork has been published in many books and has also been licensed for use on products. Truly a talent, Isono has had multiple one-man exhibitions in Japan.
CLICK HERE to learn more about opportunities for Hiroo Isono's artworks.
---
©  2023 Hiroo Isono / Cosmo Merchandising /Licensed by D. Parks and Associates LLC, ALL RIGHTS RESERVED.