Floral Photo Art
---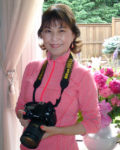 Ayako was born in Osaka Japan. She worked as a commercial model from the age of 19-29. She moved to Southern California in 1979 with her husband who is also a talented artist. From her industry contacts, she began her photography career. Ayako studied at local colleges and photographed models, landscapes and architecture for commercial advertising clients in Japan. This also led to a sponsorship with Fuji Films in Japan.  Her images were licensed for calendars, jigsaw puzzles, stationary and other products.
With her love of art and the licensing industry, in 1995, Ayako started D. Parks and Associates Incorporated so she could begin representing well known artists from all over the world.
Ayako and her husband relocated to Portland, Oregon in 2007. She was impressed by the beauty of the flowers that bloom here due to the 4 unique seasons Portland has to offer. Besides running the art agency, she spends her days photographing and arranging flowers which has led to her new floral collections.
CLICK HERE to learn more about opportunities for licensing Ayako's artworks.
---
© 2021 Ayako / Licensed by D. Parks and Associates LLC, ALL RIGHTS RESERVED.