---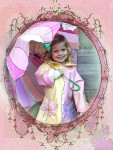 Alice Williams is a photographer who enjoys taking pictures of children.
Alice said: "I just love to capture the essence and charm of a child. I see beauty in all little faces, but am especially drawn to photograph children of all different hues and ethnicities in nature. It is an underlying theme in my life: that we are all flowers of one garden and that the garden gets its beauty from all of the different colors, shapes and sizes of the flowers."
Alice shoots in natural light and is surrounded where she lives on the central coast of California with lovely settings for her photography — bays and beaches where water birds like egrets, herons and pelicans play, eucalyptus woods and wild flowers — near perfect year round weather, and of course lots of darling children.
Some of Alice's images are taken in black and white and some are in color. But she think a lot of the magic happens when she get creative in the darkroom and on her computer. But Alice ultimate hope in her work is that the wonder and enchantment of children comes through.
CLICK HERE to learn more about opportunities for licensing Alice Williams' artworks.
---
© 2017 Alice Williams/ Licensed by D. Parks and Associates LLC, ALL RIGHTS RESERVED.